M ³ - MANDATE | MARGINS | MAKE IT HAPPEN
"Leadership is Influence"
Leading effectively is not something that you wake up one morning and just know how to do intuitively, and yet, we are ALL called to lead!
Description:
We are excited to come together in Tsawwassen and share the lessons that we have learned about what it takes to craft a mandate, set the perimeters and then bring it to life.
M3 - Mandate Margins and Making it Happen is about helping you become an effective leader who knows what to focus on and how to get there. We will take you on a journey through the Word of God that will fuse leadership principles and a biblical worldview into a cohesive understanding of what it takes to influence and impact our culture with the gospel.
Where: Coast Tsawwassen Inn - 1665 56 St, Delta, BC V4L 2B2
When: Fri. Oct 4 @ 8:30am - Sat. Oct 5 @ 4:00pm (scroll to bottom for schedule)
Who: Women in or interested in being a leader in God's Kingdom
What: A two-day summit where we will look at your mandate and margins as a leader as well as how to make it happen!
Cost: $199. Limit of 50 tickets so grab yours now on EventBrite to secure your spot!
Where to stay: You can stay at home, at the Coast Hotel ($149/night), or another location.
The Coast hotel is located in the picturesque seaside community of Tsawwassen conveniently near the BC Ferries' Tsawwassen Terminal for connections to Vancouver Island, 35 minutes from downtown Vancouver, and 25 minutes from the Vancouver International Airport.
The hotel has blocked off a limited number of "Comfort Suites" for our group, but please note you must book and pay for your own room individually. Includes parking, free wifi, free shuttle from ferry (conditions apply). Special negotiated rate for cab service to or from BC Ferries' Tsawwassen Terminal and Vancouver International Airport with Delta Green Cab, call 604.943.1111
To book a hotel room: Phone (800) 663-1144, or (604) 943-8221 and be sure to mention you're booking with the "Fellowship Pacific Women's Leadership Conference" Group to get the special room rate. Cutoff date to book the hotel: Sep 3rd.
Keynote Speakers:
Krista Penner serves as the as Team Lead for Leadership Development for Fellowship Pacific, a group of churches across BC and the Yukon. Leverage Women is an initiative of Fellowship Pacific that aims to inspire, equip and connect women leaders cross denominationally. Krista is part of the team that teaches leadership skills and ministers to women from every walk of life, who desire to lead in the places God has called them.
Leadership encompasses a vision while also enabling others to act on that vision. Krista will take us on a journey of understanding how to implement Mission and Vision in two sessions focused on Making it Happen.
Krista lives in Mission BC with her husband Jerome and together they have watched their three children launch into life with a love for Jesus and a homing device that brings them back to the kitchen table as often as their busy lives will allow.
Anne Miranda is passionate about seeing the lives of women transform as they deepen their relationship with Jesus. She is always thinking of creative ways to engage women in the curriculum which is God's Word. Anne is a core team member of the Leverage Team and she brings her passion for the word if God into everything that she shares.
Anne's personal background is rooted in social justice: working for non-profit agencies that advocated for newcomers to Canada and multicultural initiatives, she developed Crime Prevention Programs for youth under the Attorney General's Office in BC, and loved her time in the classroom as a secondary school educator teaching Spanish and English, currently she directs the Women's Ministry at Village Church in Surrey, British Columbia. Born and raised in Canada into a Lebanese heritage, Anne understands the challenges and beauty of being first generation Canadian.
Anne and Carlos have been married for twelve years and are parents to Nathaniel and Hannah. She enjoys walks on the beach, cheer-leading really loud at her kids sporting events and exploring new cafés.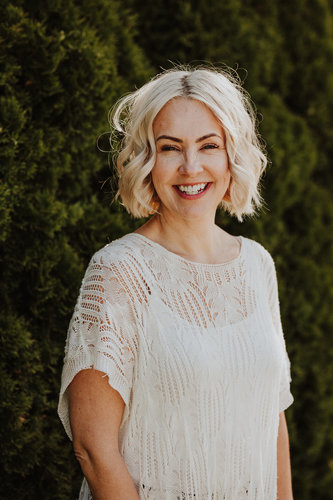 Dayna is a wife of 26 years and mom of two daughters (20 and 17). She grew up in Saskatchewan where she met and married her husband Kevin. They moved to BC 25 years ago to follow her dreams to rise up in corporate world until God got a hold of her eyes, ears and heart and she met Jesus!
Dayna has attended MRBC for the past 16 years and served on staff for the past 7 years. She led Family Ministry for 6 years and is now serving as Director of Connections and Communications.
Dayna is passionate about developing teams and partnerships, reaching out and bringing folks on board to know & serve Jesus and be part of Kingdom growth! She also loves to mentor young leaders and help them discover their gifts and how to use them for God's glory and despite being at the half century mark, feels called to speak into their young hearts and lives.
Outside of ministry, she joyfully supports the local economy at Winners, Starbucks and also adventures out on the local walking trails!
Special Video Guest Speaker:
Kadi Cole has spent the last twenty-five years studying leadership and organizational development, most recently serving as an Executive Director at one of America's largest and fastest growing multi-site churches. She is passionate about helping local churches thrive and equipping leaders to fulfill their calling.
Kadi is a true visionary, ahead of her time in teaching churches to harness the God-given talents in their congregations. While we are all called to serve, Kadi helps men and women navigate the unique challenges that may arise in pursuit of that call together. Kadi is an engaging, practical, and down-to-earth speaker and writer on a variety of topics related to leadership, organizational development, spiritual growth, parenting, and living a full life.
Guest Voices:
May Anne Then moved to Vancouver in 2010 to pursue a degree at UBC, and found her home away from home in the Dunbar Heights Church community where she serves as their Administrator and in many other roles. She is currently pursuing her Masters of Divinity as an Immerse Student. Her ties to her family in Asia drives her heart to serve locally - wherever she is - with the world in mind, firmly believing that everyone has a role to play in God's great mission.
Marlene Chapman was born in South Africa, where she met a Canadian, Greg, who was touring Southern Africa with a Christian band in the 1970's. They got married within four months of meeting, have been happily married and have served in various ministries for over forty years, having lived in South Africa, Canada, USA and England. They have three married children and five amazing grandchildren.
Marlene is the currently the administrator for a US short term missions ministry, Ten Days Missions Experiences, and this year she has coordinated trips to the Dominican Republic and Providence, RI. Greg and Marlene reside in Vancouver.
Alicia Chinchilla is a Presenter for The Value Project series by Signal Hill, a non-profit organization whose goal is to equip students with the knowledge and soft-skills needed to value themselves and others, to positively impact their communities, and to develop resiliency and well-being so that they navigate and proactively engage life's challenges and opportunities successfully.
Alicia is very passionate about serving others and loves being able to see and witness transformation in young peoples lives. She's extroverted, high energy, lover of all things coffee who believes that this message of our unconditional value will not only change this next generation but will greatly shift our culture for the better. Her husband Michael is a Director of Youth Ministries at Village Church and together they are a part of the leadership team.
Elizabeth Faulkner has a bachelor's degree from Northwest and 15 years experience leading a variety of teams and ministries at SouthRidge Fellowship including children, family, discipleship and interns. She hopes to share her experience of mentoring and developing leaders and teams with the Leverage community.
Elizabeth and her husband Jason live in Langley, BC and attend SouthRidge Fellowship. They have 3 children in their early teens, so driving and watching sports is an important past time. Elizabeth also loves large mugs of strong coffee, being a part of a book club, camping, hiking and long walks.
Skye Sealey writes candidly about what it's like to be a single woman following God, and all the lessons of trust that she has learned along the way. She loves Jesus, sunsets, dancing with no rhythm, the ocean, new socks and making people laugh.
Schedule:
Friday Oct 4th
8:30am: Check in

9:30am - 12:00pm: Morning session

12:30pm: Lunch

1:30pm – 4:30pm: Afternoon session

5:00pm - 7:00pm: Dinner break

7:00pm - 8:30pm: Evening session
Saturday October 5
8:30am: Breakfast

9:30am - 12:00 pm: Morning session

12:00pm – 1:00 pm: Lunch

1:00pm – 4:00 pm: Afternoon session